By my evaluations, the race for the top running back began over the summer. The consensus had crowned Travis Etienne as the top running back for the 2021 NFL class before the season. The season has come and went, evaluations are underway and trends have changed. Who will be RB1 when April rolls around? Time will tell.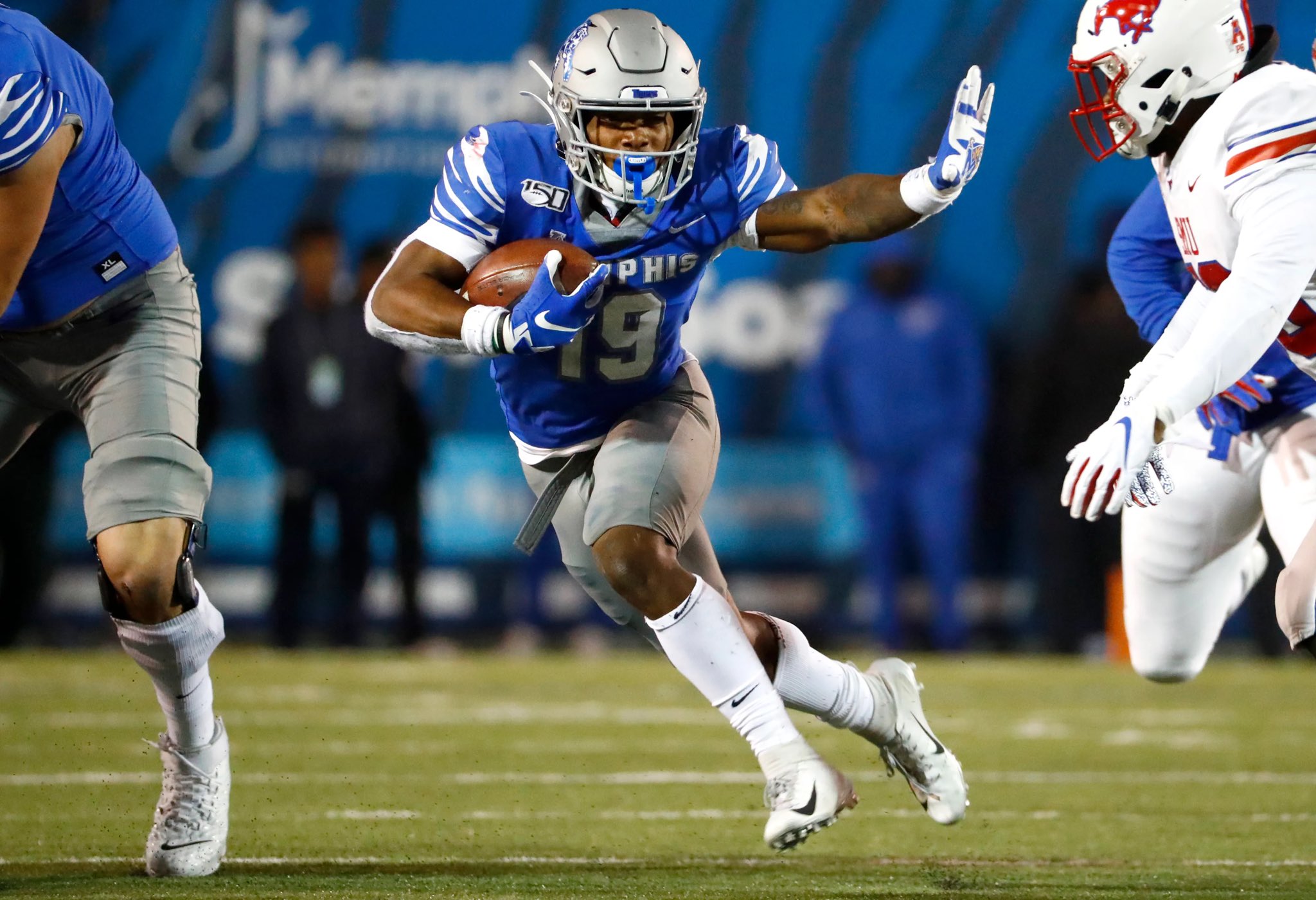 5. Kenneth Gainwell – Memphis
Kenneth Gainwell finished the 2019 season with 1,459 yards rushing, averaging 6.3 yards per carry, and 13 rushing touchdowns with 610 receiving yards on 51 receptions and three touchdowns. He had only nine incompletions and three total drops on 59 targets. The former Memphis Tiger boasts an impressive versatile offensive repertoire as a dual-threat running back. Memphis has churned out their share of talented do-it-all running backs, such as Antonio Gibson, Tony Pollard, and Darrell Henderson. Gainwell appears next on the docket to enter the NFL with his play-making prowess.
The NFL covets skill players that can create mismatches and exploit the defensive weaknesses. Gainwell fits the mold well; similar to the Memphis backs before him, he was aligned in the slot, in bunch sets, and on the boundary as a receiving option. Some people may question his ability to handle a heavy workload due to his limitations in size (5-foot-11, 191 pounds). Despite his physical limitations, Gainwell runs hard and behind his pads. Surprising contact balance paired with sweet feet and elite agility allow him to force missed tackles (56 in 2019). Those attributes depict the difficulty he presents to secure a clean hit. Teams may view him as a scat or change-of-pace back, but Gainwell is more than a pass catcher because he can tote the pigskin effectively.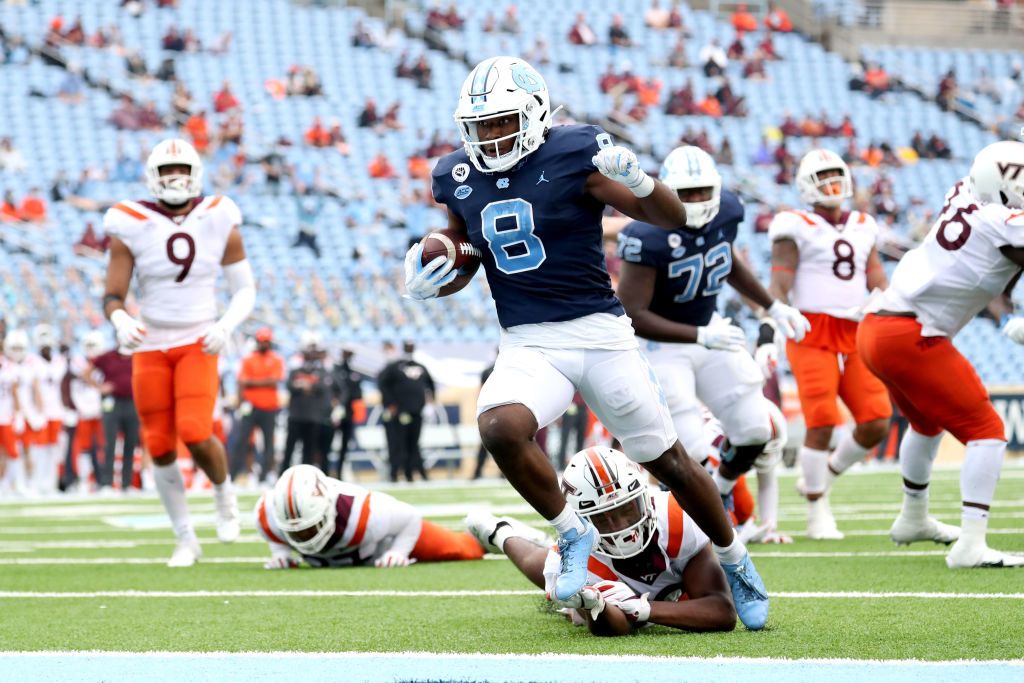 4. Michael Carter – North Carolina
Michael Carter popped up on my radar during summer evaluations. He was coming off a 1,000-yard rushing campaign in 2019. A key cog on an immensely talented offense for the Tar Heels, Carter was in a timeshare with his uber-talented running mate Javonte Williams (who will be discussed later). Like Gainwell, Carter also was bitten by the lack of size and measurables, in the same regard, he is a walking mismatch. Carter is 5-foot-9 and 202 pounds, he packs a punch when headed downhill. One of my first thoughts of Carter was his innate ability to stop and start with such fluidity. His feet and hips allow him to be an elusive and smooth runner.
Throw out the box score and his stats, because Carter is a dangerous receiver out of the backfield. The former Tar Heel's ability to defeat linebackers in space was not rewarded with targets. I envision NFL teams putting him in favorable matchups with the purpose of getting him the ball in space. Dynamic and explosive in open space, Carter led the nation with 29 rushes of 15 or more yards (per Pro Football Focus). Carter has great contact balance and churns out yards after contact. He ranks sixth in the nation this season with 814 yards after contact.
In the open field, he breaks down defenders with quick and explosive movements. In North Carolina's gap/power running scheme, Carter displayed great patience to allow blockers to engage with defenders and the vision to find daylight. Is he a bell-cow at less than 5-foot-10? Possibly. Regardless, he is an explosive running back and a nightmare in space for opposing defenders.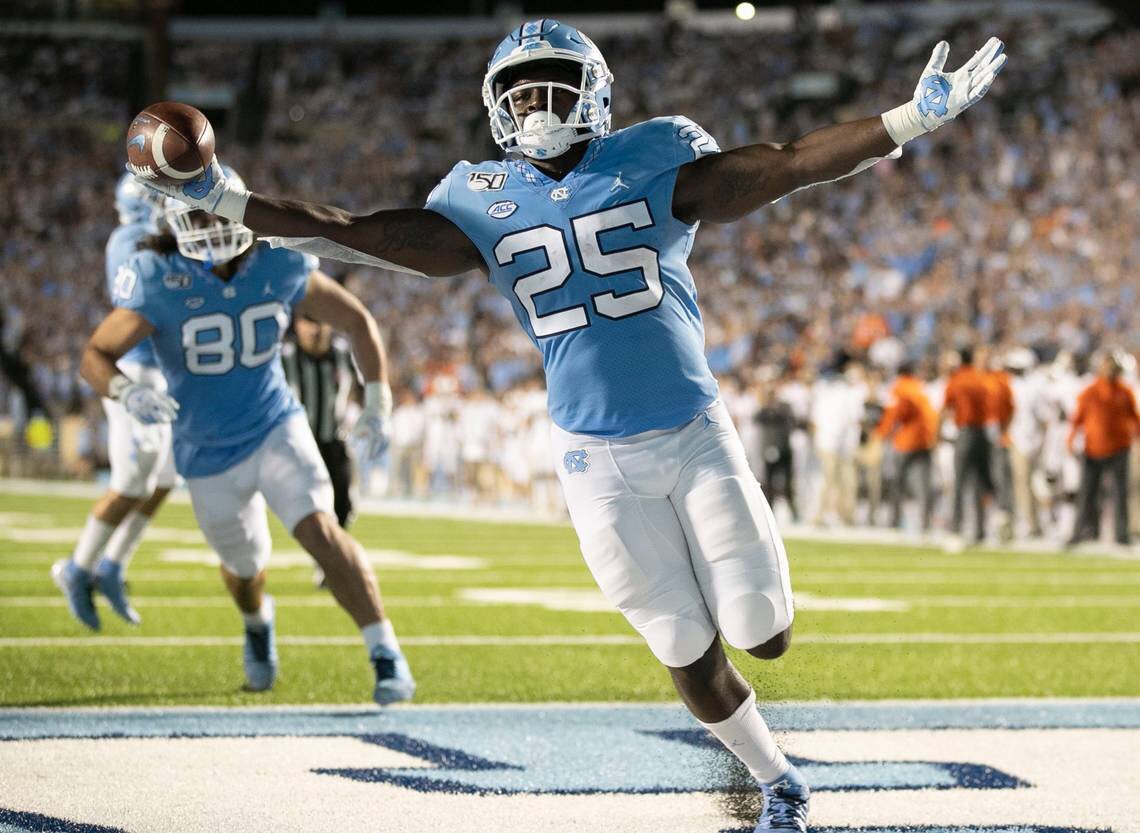 3. Javonte Williams – North Carolina
The second Tar Heel makes his appearance on the list. Javonte Williams was completely off of my radar prior to the 2020 season. Once the season kicked off and the games progressed, he became a hot name with an incredible season. Williams rushed for 1,140 yards (7.3 YPC), and 19 touchdowns. The power he ran with and thirst to punish defenders was the first aspect of his game that stood out. Williams is the thunder to Michael Carter's lighting on the Tar Heels offense.
Williams is a violent runner and runs with a low pad level, a low center of gravity, and power. His eyes and feet are paired together, allowing him to find rushing lanes and hit them with a full burst. Williams possesses surprisingly light feet for a 220-pound running back. His feet tend to glide across the turf as he searches for rushing lanes. The former Tar Heel is a bowling ball with great contact balance, he absorbs oncoming defenders and obtains yards after contact. Williams's patience is an underrated aspect of his overall game, his slight hesitations and pauses help his offensive line set up their blocks. Teams in search of a true bell-cow running back should look no further than Javonte Williams.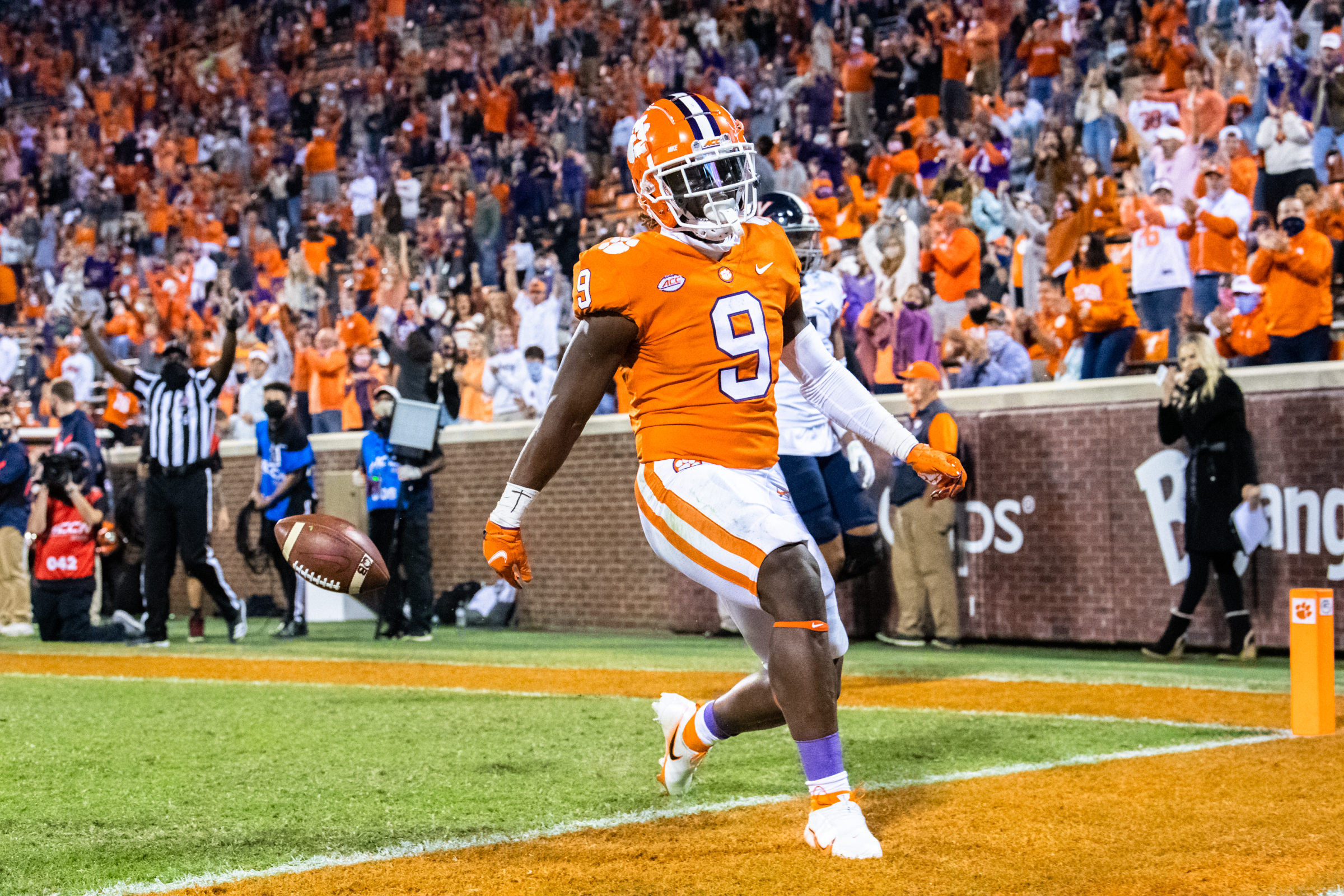 2. Travis Etienne – Clemson
The ACC all-time rushing leader, Travis Etienne epitomizes the terms "Explosiveness, Burst, and Speed." Arguably, the fastest running back in college football. During his tenure at Clemson, Etienne has broken multiple records with a highly productive career. He struggled early in his career catching the football and was not comfortable as a receiver. He explained it back in 2019 during an interview with Greg Brandt.
"I don't know, I feel nervous I guess. Cause the ball is coming, and I always feel like the defender is right there, so I run before I catch the ball and get spooked by my surroundings."
Since then, he has caught 85 receptions for 1,020 yards since 2019. His rushing production fell dramatically in 2020 after eclipsing 1,600 rushing yards in 2018 and 2019. Despite the drop-off, Etienne remains to be one of the most talented running backs in football. His trump card is clearly the elite speed/burst combination. Etienne has great contact balance to fight through initial defenders with a powerful lower body. His acceleration is downright frightening because he can destroy angles and he is a threat to score from anywhere on the field.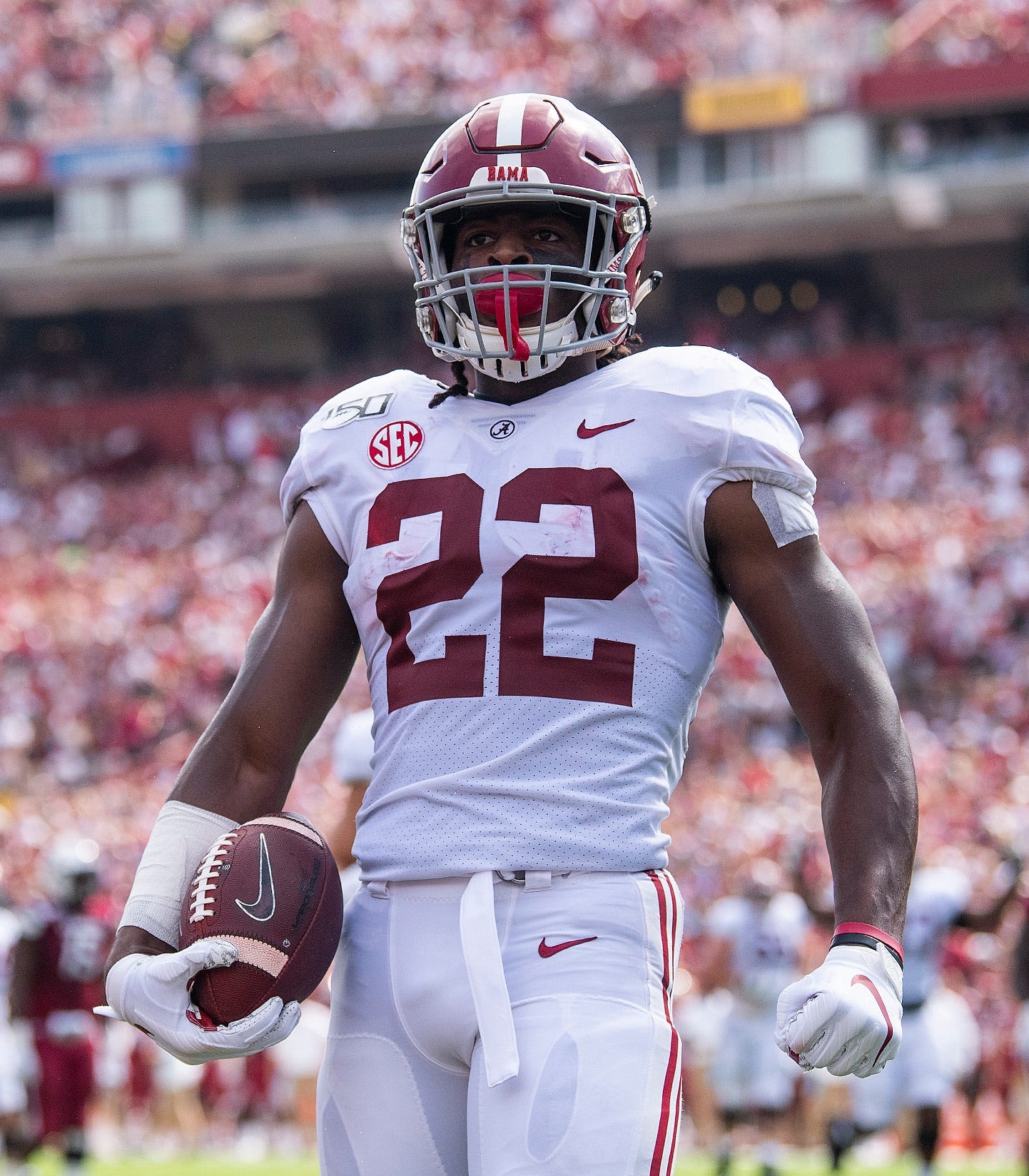 1. Najee Harris – Alabama
Arguably the most complete running back in this class. Najee Harris is Alabama's career rushing leader with 3,843 yards and 46 touchdowns and has remained at the top of my RB list since the 2019 season. He offers three-down capabilities. Harris has multiple great qualities worthy of being labeled RB1. He's neither the greatest nor the most explosive athlete, but he makes up for it with vision and patience. He's best known for his incredible leaping ability as he hurdles defenders in open field.
The former Crimson Tide running back absorbs contact, sinks his hips, anchors well, plus he is strong and reliable when he's asked to protect his quarterback. Harris is a tank who runs with a violent temperament and is a finisher. It is rare to find a 6-foot-2, 230-pound running back who is comfortable catching the ball out in space. Harris's route-running is a trait that has come to the forefront in 2020. His blend of power, quickness, and receiving versatility sealed the case for RB1 in my rankings.